Growing up listening to my grandmother's fond memories of living in Charleston during the 1920's, it's no wonder I settled here. But let me rewind.
I developed an interest in architecture from a young age by spending summers with my grandmother in her family home. Near the coastal waters of Connecticut, this classic white home with black shutters was over 200 years old with a ship's mast as a foundation support, a walk-in kitchen hearth, wavy plastered walls, storied additions and a hidden stairwell to the second floor in the living room. As children, we danced on the creaky floors, tripped up the shallow rise stairs and slid down the aged mahogany banister. She was perfectly imperfect and stood through many generations.
Unlike my grandmother's seaside town and traditional home, my family settled in a contemporary townhome within an innovative community of northern Virginia. A place heavily wooded where glass and concrete structures were embedded with nature. The buildings were linked by creeks, small lakes and winding bike paths. The homes were designed with open floor plans, expanses of glass, and visual connections to the outdoors.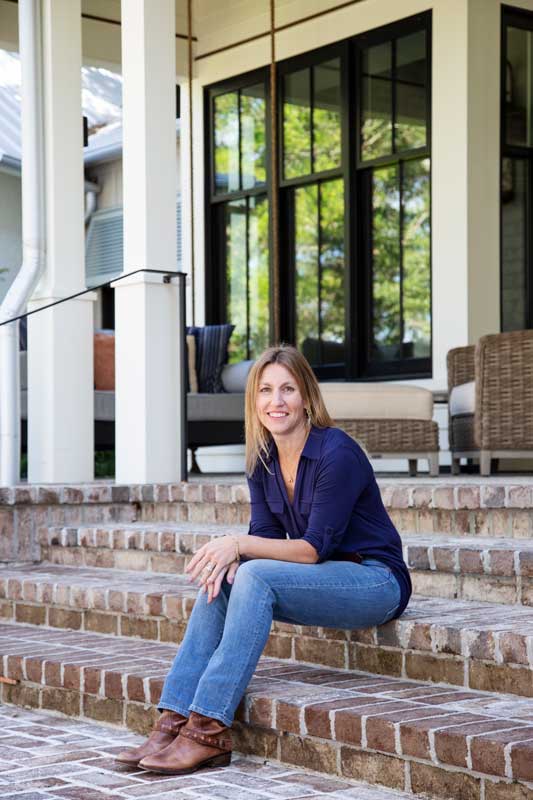 As I matured, I observed and admired both the intimate scale and stories of traditional styles and the modern expanse of space, light and material at play. Before long, I was touring historical homes, going to open houses, sneaking onto construction sites and spending hours designing or replicating floor plans I had seen. Fast forward through a few European excursions and a formal education, and I'm still doing the same thing! I subsequently worked for four award-winning architecture firms before founding my own.
It was my grandmother who always said I would love Charleston, and she was right! My husband and I met during our teen years when his family had just moved to Virginia from Connecticut and we began our lifelong friendship (but that's another story). We eventually made our way here and have called the Lowcountry home for over 20 years. Together, we are raising three active teenage boys. In my spare time, I enjoy the beach, the city, classes at 360 Yoga Charleston, and many sporting events with my boys.
As a Registered Architect in the State of South Carolina and with decades of experience in the high-end custom residential spectrum, I bring a breadth of experience and talent to the drawing board. I care about my clients and their personal goals for their home. Whether you are building your dream home or renovating, I welcome the opportunity to discuss your project.
Master of Architecture, Syracuse University
Bachelor of Arts in Historic Preservation, University of Connecticut
Virginia Tech School of Architecture and Design
Herlong Architects* — Sullivans Island, South Carolina
Group 3 Designs** — Hilton Head Island, South Carolina
Austin Patterson Disston Architects — Southport, Connecticut
The M Group Architects — Vienna, Virgina
AIA CRAN Charleston — Past President (2015) and Vice President (2014)
Habitat for Humanity volunteer
*Project Architect on: Creekside Sanctuary, Breach Inlet Beachhouse, Nature Preserve Perch (all 3 Julia Lynn Photography) and Historic Island Cottage (Katie Charlotte Photography)
**Project Architect on: Lowcountry Fairway, PeeDee Farmhouse and Calibogue Contemporary